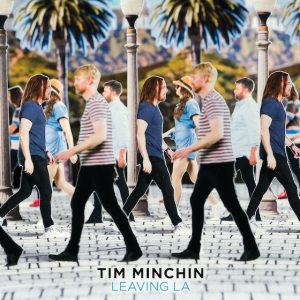 Here it is! Leaving LA is the first of a handful of singles to be released ahead of the full album later this year.
Stream/Download:
timminchin.ffm.to/leavingla
I heartily suggest you watch this on a reasonable sized screen with some lovely headphones / speakers and the volume turned up to 9. My producer, Mr Daniel Denholm, has done a beautiful job with the audio, and the wondrous Tee Ken Ng has made a film unlike anything you have seen.
(UPDATE: You can now watch The Making of Leaving LA on YouTube or below).
We really hope you think it doesn't suck.
Lyrics, and for fun there's a Glossary, below.
Leaving LA – Music and Lyrics Tim Minchin. Film by Tee Ken Ng

Produced and Engineered by Daniel Denholm
Recorded at Point Blank Sound
Drums – Ben Vanderwal
Bass – James Haselwood
Guitar – Jak Housden
Piano – Tim Minchin
Backing Vocals – Sarah Belkner, Jak Housden
Strings and Brass arranged by Daniel Denholm
Recorded by Brent Clark @ Trackdown Studios
Assisted by Rose MacKenzie
Mixed by Tim Palmer @ '62 Studios, Austin, Texas.
Mastered By Steve Smart @ Studios 301
Lyrics
Check the locks and leave the keys
Mouldy bath masked with Febreze
Something's dead behind the refrigerator
Some poor fuck will deal with it later
I've spent the last ten weeks
Squeezing out the sponge of friendships plugging leaks
Talked until there's no more to say
I'm going away. I'm leaving LA
And the tourists say
"Please give me the directions to the Hollywood sign
I always dreamt of coming here to see the Hollywood sign"
But on their way back down we'll ask did you have a good time
They'll say "it's just some fucking letters on a hill"
I wander through the Bronson Caves
One more OK coffee at the Oaks Gourmet
I'll watch the players at the UCB
Trying to improvise their way out of ennui
Walking trails in the creeping dark
Up to the observatory in Griffith Park
There's too much light for stars anyway
I'm getting out of this place
I'm leaving LA
I'm leaving LA
And the studio executives who never made a thing
Blaming others for their failures taking credit for their wins
Wiping the blood of dumb artists from their chins singing
"Kid you oughtn't take it personally"
On Hollywood and Vine a dime-store Spiderman
Shouting at a stoned Emma Stone dressed a la La La Land
And in the distance in both its glorious dimensions
The sign projects its shadow on the hill
Rushing by machine-gunned cops at LAX
Malfunctioning departure board says we're boarding next
Belt off shoes off jacket off hat
Don't need the attitude but I quite enjoy the subsequent pat down
And I'm sat down
As the A380 engine roars
Pushed backwards as this tube of monkeys rumbles forwards
Looking forward to
Another twenty hours on a plane
Nothing but shit films and my brain
I've been going slowly insane
I've seen your sport and I don't wanna play
I'm getting out of this place
I'm getting out of this place
I'm leaving LA
And the actors at Gratitude drinking undrinkable juice
And the agents taking ten percent in their sneakers and suits
And the writers in their Teslas trying to punch up Act One
Driving home on the 101 in the relentless fucking sun
And the needy and the greedy and the homeless and horny
And the deals done on treadmills at ten to six in the morning
And the Captain's on the PA saying look for the sign!
But I find it's just some fucking letters on a hill
Just some really ugly letters on a pretty ugly hill
I'm leaving LA
I'm leaving 'ell
Glossary
Bronson Caves: an old quarry in Griffith Park, the caves were used in the original Batman TV series.
The Oaks Gourmet: a very nice little market opposite the Scientology Celebrity Center in Franklin Village. Order filter coffee, cos Americans know how to do that. Also good for picnic hampers when you're off to the Hollywood Bowl.
UCB: a long-running comedy / improv troupe, the Upright Citizens Brigade. They rule.
Trails: the Griffith Park trails are hiking paths that lead up to the Griffith Observatory. There's a cafe at the bottom called "Trails" owned by Mickey Petralia who happens to be a music producer who helped with concert sound in some of my Californication episodes! (He also did a lot of the sound for Flight of the Conchords).
Observatory: The Griffith Observatory, an Art Deco Greek Revivalist observatory that is walking distance from where we lived in Los Feliz. I love it. It's in heaps of movies, most famously James Dean's "Rebel Without a Cause", and Tee Ken Ng's Leaving LA…
Hollywood and Vine: it's a reasonably ugly corner on a reasonably ugly road. The places many tourists go in Hollywood are pretty tawdry, and crowded with people dressed in cheap Marvel costumes trying to make a few bucks having pics with tourists. I never saw anyone dressed as Emma Stone, but I couldn't resist "a la La La". I actually asked Emma (through a friend) whether she'd be in this music video. She – sensibly – didn't get back to me.
LAX: is the main LA airport. It's frickin huge and often absolutely awful (although the new terminal is very nice). We've had some frickin dire moments in that airport, being shouted at by tired immigration officers after queuing for 3 hours with two little kids.
A380: is a plane built by Airbus and is the biggest passenger plane in the world. I think they are beautiful. They take so long – and so much energy – to take off, you feel like you're never going to get off the ground. And then you're in the air and they are so quiet and smooth, you feel like you're not moving.
20 hours: about how long it takes to get to Perth (via Sydney) from LA.
Sport: the sport is commerce, if you're wondering, not filmmaking.
Gratitude: a Vegan restaurant in Larchmont. It's actually really nice, but it is as free of irony as it is of animal products. The dishes have been given hilarious names like "Glowing", "Brave", "Worthy" and "Radiant". You literally have to say, "I'll have a Thriving, please". For this reason, I can't go there.
Punch-up Act One: film scripts are invariably divided into three acts. It's sometimes annoying, but it's the language of the form. Scripts often get handed to other writers for a "punch-up pass", to try and make them more funny. There are writers in Hollywood who earn hundreds of thousands of dollars but never have their own scripts made. They just get paid to do passes on other people's scripts. It's why so many movies are tonally uneven.
101: is a freeway. Or a highway. Depends where you're from.
UPDATE (20/03)20: The Making of Leaving LA
Directed and Edited by Jess Black
Shot by Cam Campbell
Colour Grade by Paul Komadina