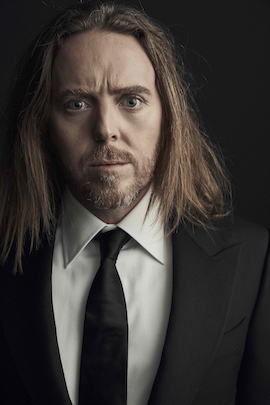 The British Academy of Film and Television Arts (BAFTA) announced today that Tim will be opening and closing this year's star-studded Virgin Media British Academy Television Awards 2020 with a couple of special musical performances.
He'll perform an original song, written specially for the occasion, to open the show and he'll close with 'Carry You', which he wrote for his TV Series UPRIGHT.
Friday 31st July, BBC One, 7pm BST
UPDATE (31/07/20): Here are the two songs Tim performed:
'2020 Baftas' Lyrics below.
'Carry You' a song he wrote for his comedy drama TV series UPRIGHT – a wild road trip across the Australian outback. (Lyrics to 'Carry You' can be found here.)
Tim: "I would very much like to be in a lovely theatre in beautiful London, dressed in an on-loan tuxedo, trying to stay sober enough to remember the lyrics I last-minute wrote for the opening of UK film and telly's night of nights. As it is, I've prerecorded the song from Sydney in the 25-yr old tux I had in my closet, and I remembered the words fine because we filmed it in the morning, and neither the pandemic nor the high quality of affordable Australian wines have as yet driven me to AM drinking. (I'm incredibly honoured to have been asked and am excited to see how the whole thing is put together, given how very hard the BAFTAs folk have worked to make it special.)"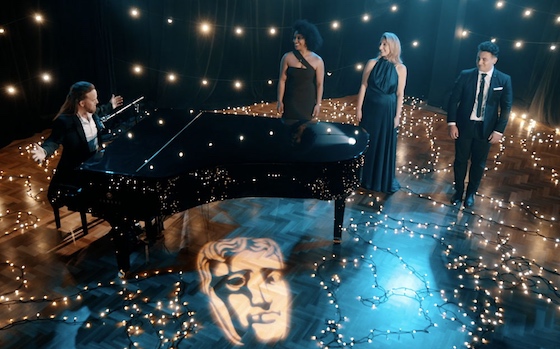 Filmed at Television Centre and hosted by Richard Ayoade, the ceremony, featuring a host of guest appearances, will take place behind closed doors. In place of the usual red carpet programme ahead of the show on BBC One, comedian Tom Allen will be hosting a Pre-Show, which will stream live on BAFTA's social channels from 6pm BST, leading up to the main event.
Perhaps my greatest fear among my many fears vis-à-vis
Covid-19 is that in the coming years there will be
Even more films and episodic TV about zombies.
I think I'll write a zombie film set in Hollywood in which
The writers all get bitten by a zombie carrying a disease
Which, when you are infected, manifests in a desire
To write zombie films.
I know our job is to hold a mirror up to society,
But I've been avoiding mirrors of late, cos it's got so goddamn ugly.
Remember when Cercei Lannister was absurd hyperbole?
But now she seems quite tame
And her naked walk of shame
Being pelted with human poo
Is just what we daily do on twitter.
(Daily do on twitter)
I know I sound bitter, but tell me
How do you make great art
When reality has jumped the shark?
(Who cares?)
Let's raise the rafters
It's the 2020 BAFTAs (2020 BAFTAs)
No one's stronger than an artist in a crisis!
(Artist in a crisis)
Come hell or high water,
Pandemic or disorder,
We will stand up (stand up!)
To give each other prizes.
If there's no one to applaud me, who am I?
(No one to applaud him who is he?)
No camera to record these real tears that I cry?
(Real tears that he cries)
Will I just shrivel up and die?
(Die! Die! Die!)
If an actor dressed as a tree falls in a forest (Crash!)
And the self-tape doesn't upload (Oh no!)
Does she even exist? (Does she even exist?)
And if Matilda stays closed, am I still rich?
Welcome you arty martyrs
To the 2020 BAFTAs
Tell me, who is the designer of your tracksuit?
(Tell me, tell me, who designed your tracksuit?)
Let's get through these awards
Then get back to our real jobs,
Signing virtuous petitions in our Ugg Boots.
(Lovely, lovely Ugg Boots)
To all you clever nominees:
I hope you're very, very pleased,
I'm not bitter that my show wasn't nominated.
(It's got 8.6 on IMDB)
I hope you have fun,
Remember whether you lost or won
Doesn't matter, (doesn't matter)
Cos the planet's almost dead.
All the legends and the laughter
Of the 2020 BAFTAs,
Gee it's gonna be a helluva party!
(Virtually! Virtually a party!)
If this song was too ironic,
Sarcastic or sardonic,
We'd better hand you back to Richard Ayoade.
(Richard Ayoade)