Hi all. Here's an infrequent blog. Am writing it by way of diarizing this weird little moment in time, and because I know a lot of you followed the progress of this project on socials.
The fact that I named this upcoming album of mine "Apart Together" long before Covid hit kinda presaged the way in which it has grown to become – in my mind at least – an album very much of this time. And as more shits have hit more fans, I have become more dedicated to making it a testament to this fucking year, and to the idea of making lemonade out of lemons, whatever shape the lemons are.
Some of my nerdier fans (hi, bless you, love you) will have heard me say more than once that I think you should aim to bring everything you are into everything you do. I tend to say it about artists, but I guess it works for humans in general. I also often quote my mentor/director/friend Matthew Warchus (who was perhaps quoting someone else) who told me, back in Stratford-Upon-Avon in 2010 when I was anxious about whether Matilda was ready to open, that "any piece of art is just an artifact of the work you did in the time you had". These two simple ideas have profoundly affected the way I go about my work… and this year have come to mean even more. This year, bringing "everything you are into everything you do", means bringing your anxiety, and your disappointment, and your tiredness, and whatever else you are carrying through the pandemic months. And "the work that you did in the time that you had" could perhaps be extended to "… the work that you did in the time that you had in the space you were locked inside with the collaborators you were allowed to have contact with"!
Each single I have released this year has been an opportunity to make a little bit of art, and as our industry shut down, and then nervously semi-reopened, I tried to let the restrictions that came along govern the style of art-making.
Which brings me to the video for "Airport Piano", the 4th single from my album, being released today!
Which, typical of this shit year, is also the day I have to get on a plane and fly away from my folks. Let me go back a bit….
A couple of months ago, our gorgeous mum, who is only 71 and very healthy, and who loves her family with a sort of nuclear fury and is widely and furiously loved in return, was diagnosed with a particularly nasty blood cancer. She's actually stabilized and is doing great at the moment, but when she was diagnosed, shit went very bad very quickly, and my two sisters and I (the Sydney-based siblings) and our families scrambled to apply for travel exemptions so we could fly home to Perth to see her.
Endless phone calls and doctors' letters and documents later, we booked flights and landed in Perth… then drove straight to the house in which we were to quarantine for 14 days. Hashtag-fuckin-blessed, by the way, that we were allowed to quarantine in a house rather than a hotel room, and doubly blessed that we have family friends who lent us their big old home with a big garden and a big garage, and triply blessed that two of our families were able to quarantine together! My youngest sister, Nel, and her hubby and their two little girls, and Sarah and Violet and Caspar and I all moved in.
This is Nel Minchin: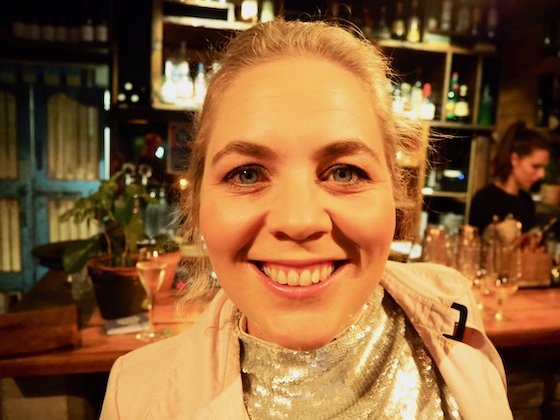 A lot of you know Nel is a film-maker. (Digression: the feature doc that she and Wayne Blair have made about Bangarra Dance Theatre is absolutely spectacular and heart-breaking and beautiful. It's called Firestarter and it premiers next month, and will be playing at festivals all around the country. I will tell you more when I've found out more ways you can watch it.) Nel's husband, Guy, is a creative. Both a capital-C Creative (in the ad industry) and a small-c creative, in that he just makes shit all the time. And he trained in photography.
And before Mum got sick, Nel and Guy and I were talking about making a music video for Airport Piano. Guy had the idea that we should do some sort of piano-painting art project, then sell it for charity, and the music vid would kinda document that process. (Told you he was creative). And – being a man obsessed with words – I had the idea that the art project should involve me spewing the lyrics of the song onto whatever hapless instrument we found. We had begun to plan the shoot in a studio, with proper crew and lights and all the stuff. But suddenly the we found ourselves with a garage, no gear and two weeks until the deadline. And we all had to work normal hours with our various (remote) jobs.
First thing we did, is sent my Dad and my brother to Bunnings (equivalent to Home Depot / Homebase) and built a quick Drop-cloth studio.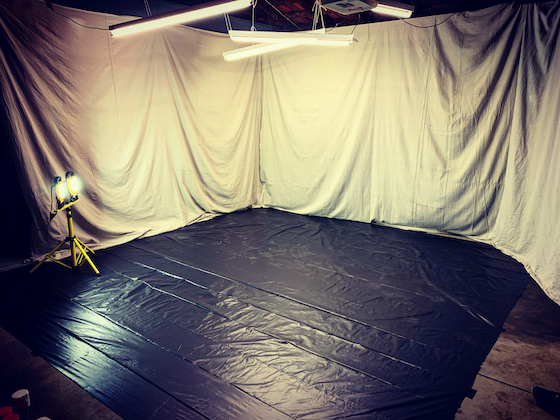 Meanwhile, I put out the call for a free (or very cheap) piano, but as I did so, I realized that I wanted it to be a pretty good instrument. I thought if we want to auction it for charity and make some proper money, it should be very playable. For a while, I've been a Yamaha Artist… which I mostly agreed to so I could put a bit of energy into their charity work, and so they can help supply instruments when I tour. I didn't expect them to ship me a brand new $12,000.00 Yamaha U1 within days of me asking the question. But that's exactly what they did. It was so new, it came in a box.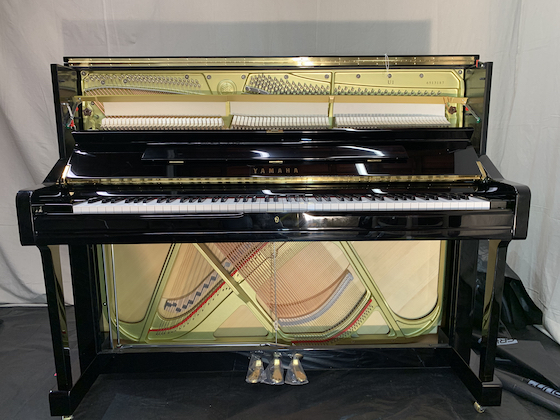 And it therefore took a good while to pluck up the courage to take a frickin orbital sander to it.
Got the teen on the tools for a bit.
Destruction.
And painted it white.
Struction.
I called up the awesome Murray Johnston, who was Katie Milwright's camera assist and focus puller on Upright, and asked him to hire us some gear and bring us everything we needed, and to advice us on set up. I also called up Richard and Fiona Rees-Jones (Head of Lighting and Head of Make Up on Upright) to advise on cheap lighting solutions. Total. Fkn. Legends.
We filmed the video in a day, and this is what the piano looked like at the end!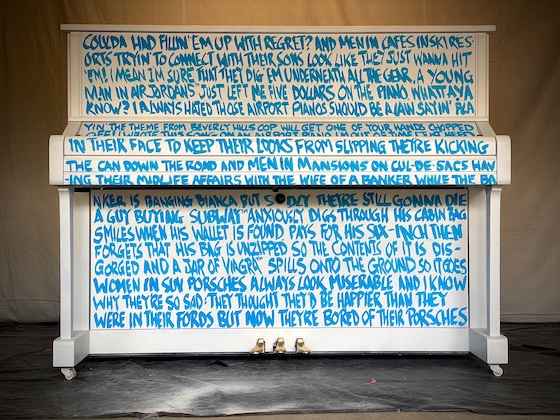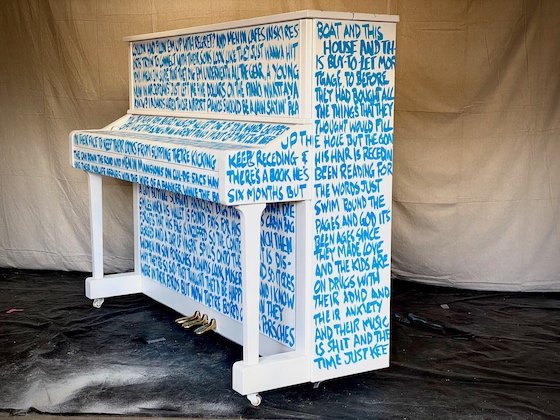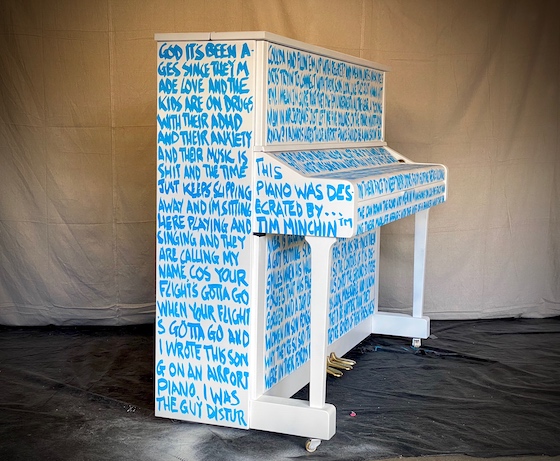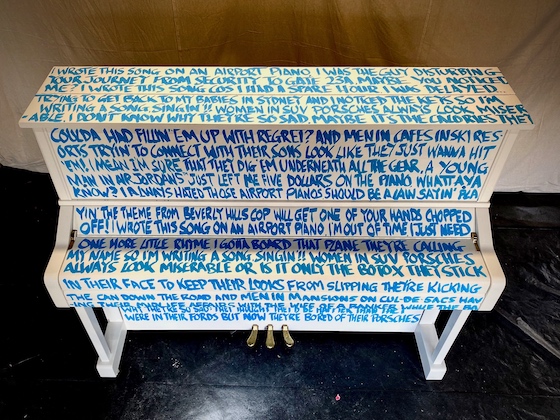 It's currently out in Midvale being sealed / varnished, and will then be trucked to Sydney, where it will make an appearance in an online thing I'm doing (more on that soon).
And THEN we're going to auction it for charity. We've chosen an amazing arts charity*, and I'll tell you more about that when we get to that bridge.
That's the story of our funky little clip. I really like it! Massive respect to Nel and Guy. And thanks to John and Liz Mair for all your generosity and loveliness.
We have been out of quarantine for 4 weeks, visiting family and – as ever – working working working to try to keep making and promoting these songs and clips. I actually filmed another whole music video this week! This time, it was a massive production at an amazing Perth venue with a cast of 18 and a crew of 45. But I'll tell you more about that in a month!
I actually have to get back to Sydney today, which is very complicated and sad.
So it goes.
Loads of love and peace to all of you who read this far.
Tim x
Sept 2020.
*UPDATE (05/07/22):The Art of Music dinner raises money for Noro Music Therapy, an AMAZING charity which provides almost two thousand music therapy sessions in Australia every week.
I performed on my Airport Piano, after which it was auctioned, making – thanks to an incredibly generous couple – $60,000.00 for the cause.
Thank you to the amazing Jenny Morris, creator and organizer of the dinner; to Yamaha Music Australia – Music Products for donating the piano in the first place; all the incredible staff at Noro Music Therapy and the Art Gallery of New South Wales; and my sister Nel Minchin and bro-in-law Guy Patrick for helping me create the thing.