Groundhog Day opened at The Old Vic, London, yesterday evening to another blizzard of rave reviews.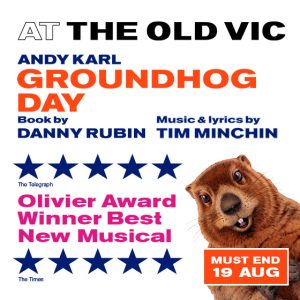 'Groundhog Day is, to be quite honest, in a different league'
The Times *****
'A flat out masterpiece'
Time Out *****
'That's what makes Groundhog Day such an enjoyable show: it earns its happy ending, which unfolds with grace and a sense of wonder. It is, literally, marvellous.'
WhatsOnStage *****
'Slicker, shinier and absurdly entertaining'
BroadwayWorld *****
'It's a delight to have this marvellous rom-com back again'
The Telegraph *****
'You'll want to see this again… and again!'
The Daily Mail *****
Groundhog Day's run was recently extended until August 19th 2023.
There will be an audio described performance on July 7th
and a captioned show on July 20th.
Tickets


'Sublimely witty and surprisingly profound'
The Evening Standard ****
'There is much to savour in a sharp, spiky story about saving oneself'
The i ****
'Groundhog Day – Sharp, dark musical from Danny Rubin and the Matilda dream team makes a triumphant return'
The Stage ****
'[Tim Minchin's] lyrics are a blast, zinging with clever, quick wit. The show glows with bursts of comic brilliance as a result'…'A stellar set, score and performances are guaranteed entertainment'
The Guardian ****
'[Karl's] is a bravura performance, bolstered by a strong set of supporting roles.'
The Arts Desk ****
The original London production was nominated for eight Olivier Awards, winning Best New Musical and Best Actor in a Leading Role in Musical for Andy Karl who is reprising his role as Phil Connors, the cynical Pittsburgh TV weatherman with Tanisha Spring as Rita Hanson.
Directed by Matthew Warchus, artistic director of the Old Vic, with the book by Danny Rubin
and music and lyrics by Tim.
All photos by Manuel Harlan