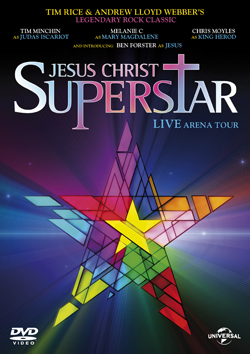 Tonight, Tim hits the stage at the O2, for the first time as Judas in Tim Rice and Andrew Lloyd Webber's spectacular UK arena tour of Jesus Christ Superstar.
To coincide with opening night, we're pleased to announce that there will be a DVD and Blu-ray release of the show coming out on the 19th November 2012.
Jesus Christ Superstar Live Arena Tour 2012 is available to pre-order now from the Jesus Christ Superstar website, Amazon and Play.com.
Along with Tim in the role of Judas Iscariot, the fabulous line up includes Melanie C as Mary Magdalene, Chris Moyles as King Herod and Winner of the ITV primetime show Superstar Ben Forster in the title role of Jesus. For more information about the show visit the Jesus Christ Superstar website or our previous blog here.
The show will be filmed live as part of the 2012 arena tour, so you'll be able to relive it if you're lucky enough to have tickets or to experience it fresh if you're not able to make it along to any of the dates.
If that's not exciting enough, here's some footage from the show:
Although many dates have now sold out, you can still get tickets from www.jesuschristsuperstar.com