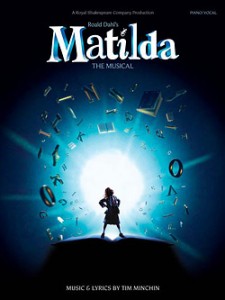 My Matilda song book is actually really and truly out today! I'm so excited.
You can buy it from real, live, in-the-actual-world shops and from intangible, probably-magic, online shops here and here, and – even more incorporeally – as a digital download thing.
Yay! Merry Christmas!

Update: The song book will be available at the RSC shop in Stratford-upon-Avon, the Cambridge Theatre in London's West End, at Musicroom stores around the UK and from all good music shops. If you're not in the UK, both online retailers (linked above) ship internationally.