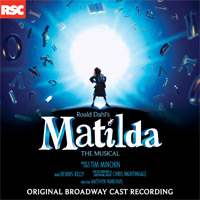 We already let you know, here, that the Broadway production of Matilda The Musical would be releasing its own original cast recording, but that was quite a while ago, so here we are again to tell that you it's now available to buy in the shops, as well as from various digital retailers.
Apart from the brilliant Broadway cast, it differs from the equally marvellous London Cast Recording in that it includes 'The Chokey Chant' as well as all three of the acrobat and the escapologist stories as bonus tracks! (Bertie Carvel and Lauren Ward reprise their West End roles as Miss Trunchbull and Miss Honey).
The Deluxe Edition has yet more bonus tracks: 'Perhaps a Child', which had to be cut after the first Stratford-Upon-Avon performance and another version of 'Naughty' featuring all four of the original Broadway Matildas: Oona Laurence, Milly Shapiro, Sophia Gennusa and Bailey Ryon. Of course, all tracks can be downloaded individually too, if you simply wish to complete your collection.
For the full tracklist and to preview the songs, simply search for Matilda The Musical on your favourite digital retailer's site, to yield all the editions available in your country or take a quick look on the iTunes listing at the Matilda the Musical (Deluxe Edition) [Original Broadway Cast Recording].