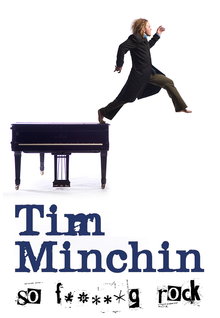 More good news! So F**king Rock So F*****g Rock is now available to stream on Hulu right here.
Filmed at London's Bloomsbury Theatre in May 2008 (in front of a glamorous and clearly intelligent audience, gathered from all over the UK) the show includes such favourite songs as Canvas Bags, Inflatable You, Rock n Roll Nerd, If You Really Loved Me, Not Perfect, Darkside and many more! PLUS hilarious talky-bits in-between songs.
This is some vintage Minchin and a chance to hark back to the days our fashion hero wore a long coat and much roomier trousers.
Only the other day we announced that the full-length version of Tim Minchin and the Heritage Orchestra, Live at the Royal Albert Hall was available on Hulu, on the Comedy Dynamics channel. If you're subscribed, keep an eye on Netflix as the Heritage Orchestra show will be available on there too, from the 15th October.
Get ready to sing along. All together now: I am so F-asterisk-asterisk-asterisk-asterisk-asterisk-g rock… and breathe…