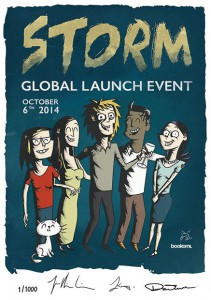 Do you want to watch Tim launch his lovely new book, Storm, and get yourself a signed limited edition print, available exclusively in connection with this event? Well you're in luck then! Excellent.
On 6th October 2014, 7pm (BST), Tim will launch the illustrated book version of Storm, at an event live-streamed over the web from Soho House in Los Angeles and you could be watching!
To view the live stream, you'll need to purchase the special Launch Edition of the book from Bookomi, here, before the book launch. They ship internationally, so you'll be able to join in wherever you are in the world! (Postage and packing will be calculated for you at checkout).
UPDATE 05/10/2014: If you're unable watch live as it is streamed (because you're sleeping, for example) or wish to re-watch your favourite bits, purchasing this special edition from Bookomi will give you access to the video footage for up to six months!
We know many of you will have already pre-ordered a copy of Storm but we reckon you'll want to get your hands on this version too, as it comes with an exclusive, numbered, high-quality art print. These beautiful prints will be signed by DC Turner and Tracy King and the first 1,000 will bear Tim's autograph too!
The deluxe hardback collector's edition, numbered and signed by Tim, has now sold out, so if you missed out on that, this is a chance to get your hands on something exclusive and signed.
You'll also be able to submit questions to Tim, on Twitter, using a hashtag that'll be released one hour before the event by @bookomi, who'll be live-tweeting photos and tasty snippets throughout the launch, from LA and London!
Everyone watching the live stream will be able to submit questions directly on the screen. Do please say where you are in the world too!