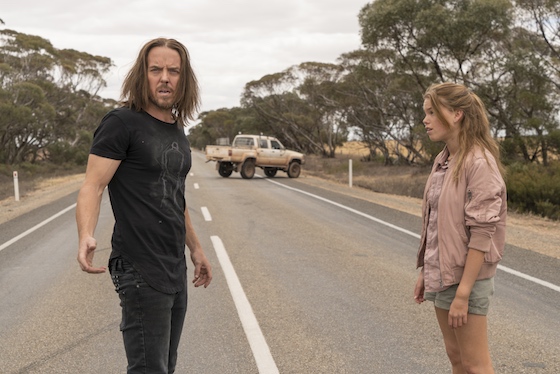 Ready for a wild road trip across the Australian outback with Tim's brand new comedy drama UPRIGHT?
Update: UPRIGHT Season Two is out now – details and where to watch BOTH seasons here.
Already available in:
UK: Sky Atlantic and NOW TV (from Thursday 28th November, 2019)
Now available on DVD and digital platforms in the UK too – see below.
Australia: FOXTEL (from Sunday 1st December, 2019), BINGE (from Saturday 26th December 2020)
Now available on DVD and digital platforms in Australia too – see below.
Canada: Super Channel Fuse – now ended. (from Sunday 19th January 2020 until December 2021).
Canada can now stream UPRIGHT for free on CBC Gem. (from Jan 2021)
Russia: Fox Russia (from Tuesday 3rd March 2020).
Belgium: Telenet – now ended (from Wednesday July 1st 2020).
US: Sundance Now (from Thursday 6th August 2020).
(Join Sundance Now with the promo code 'UPRIGHT' for a 30-day-free-trial).
Germany, Austria and Switzerland: Universal TV (from Tuesday 11th August 2020).
Spain: Sundance TV (from Monday 7th September 2020).
Netherlands: Ziggo TV – now ended. (from Thursday 10th September 2020).
New Zealand : TVNZ (from Friday 18th September 2020).
Lithuania: Telia Play (from Wednesday 23rd December 2020)
South Korea: Wavve (from Wednesday 10th February 2021)
Latvia: TET+ (from Thursday 1st April 2021)
Germany – WDR (Free TV) ARD Channel One – now ended. (from Tuesday 15th June 2021).
Coming to:
More UPRIGHT airdate updates will be added as they are confirmed and announced.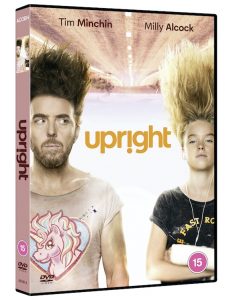 Available on DVD in:
Australia
UK
Available on digital platforms in:
Australia
UK
Co-written and starring Tim, UPRIGHT follows two misfits thrown together by chance in the middle of the Australian desert, who forge the unlikeliest of bonds in their quest to get a precious piano from one side of the country to the other.
Tim: "Making Upright was a complete joy and a massive privilege. After living overseas for more than a decade, I couldn't have hoped to come home to a more fun and inspiring project: an original Australian outback adventure story, full of heart and laughter, made by some of most talented and dedicated creatives in the country. It's a unique but universal story about family, resilience, music, forgiveness, and learning how to find a moment to breath out. And it's full of silliness, action, and wonderful performances, and will make you want to go to the beach and/or ring your mum".
When Lucky Flynn (Tim), who hasn't spoken to his family in years, learns that his mother is dying, he sets off on a 4000 kilometre drive across Australia to see her, packing only his cherished upright piano. His plans soon go awry when he meets rogue teenager Meg (Milly Alcock). Together they forge an unlikely friendship as they embark on a road-trip adventure across the Nullarbor Plain in a race against time.
UPRIGHT features a stellar cast including Heather Mitchell (A Place to Call Home, The Great Gatsby, Palm Beach), Daniel Lapaine (Muriel's Wedding, Black Mirror), Ella Scott Lynch (Love Child, Janet King), Daniel Frederiksen (Ghost Rider, Matilda the Musical, Catastrophe), Kate Box (Rake, Picnic at Hanging Rock), Ningali Lawford-Wolf (Mystery Road, Last Cab to Darwin), Sachin Joab (Hotel Mumbai, Pine Gap), Luke Carroll (Strangerland, Redfern Now) and Rob Collins (Secret City, Cleverman, The Wrong Girl).
Led by Tim, there's a brilliant creative team behind UPRIGHT, including the Creator Chris Taylor (The Chaser) with whom Tim is writing the series alongside award-winning writer-actors Kate Mulvany (Lambs of God, Fighting Season, Jasper Jones stage play) and Leon Ford (Offspring, No Activity). The Director is Matthew Saville (Please Like Me). Tim is Executive Producer with Penny Win, Carly Heaton and Helen Bowden. Producers are Lingo Pictures' Jason Stephens, Chris Taylor and Melissa Kelly (Hounds of Love).
Tim has written some music for the series, alongside a beautiful score by Jackson Milas and Antony Partos and a cracking soundtrack of Australian artists, including Sia, Briggs, INXS, Baker Boy, Paul Kelly, Alice Sky and more.
A selection of UPRIGHT Quotes and Reviews can be found here.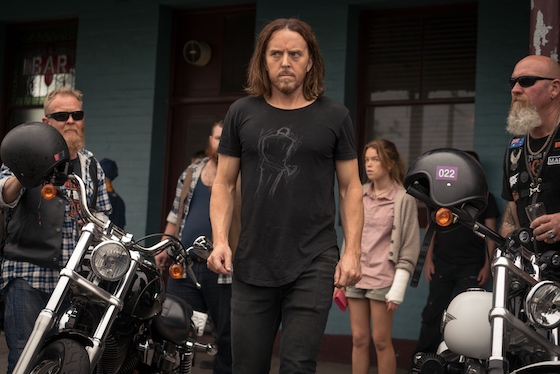 UPRIGHT is a Lingo Pictures production for FOXTEL and SKY UK, with major production investment from FOXTEL and SKY UK and Screen Australia in association with the South Australian Film Corporation. The series financed with support from Create NSW and Screenwest. Rest of world sales are being handled by eOne.
#Upright2019 #UPRIGHT
UPDATE: Carry You, the version from the credits of the final episode, performed by Missy Higgins is out now.
Stream/download: https://MissyHiggins.lnk.to/CarryYou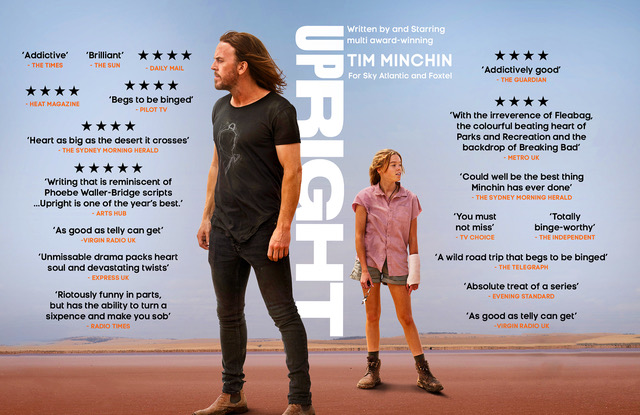 UPDATE (22/07/20): Tim's #UPRIGHT Q&A with Judd Apatow, hosted by ATX Festival, with Sundance Now and eONE TV, is available to watch here.
UPRIGHT Season Two is out now – details here.