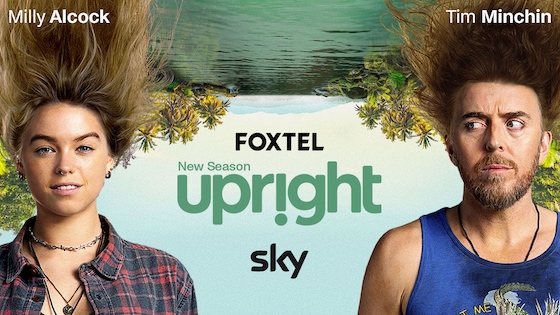 Lucky (Tim) and Meg (Milly Alcock) will hit the open road – and river – once again when the misfit duo are unexpectedly reunited four years after their epic adventure crossing the Nullarbor Plain with a cherished piano. This time they trade the desert for the steamy tropics of Far North Queensland on a mission to find Meg's mum.
Tim: "We worked so hard on this second season, having to overcome many hurdles on the way. The making of art imitating art, I guess. Things are different in Meg and Lucky's world, and shit gets even weirder than in season 1, but hopefully it will connect with people in the same way. Ep 8 is another tear-jerker, if jerking tears is your thing. (It is mine!)"
UPRIGHT Season Two has a double episode premiere in Australia
on Tuesday November 15th at 8.30pm AEDT on FOX Showcase on FOXTEL.
All 8 episodes will be available to watch On Demand on FOXTEL and on BINGE.
Season One is currently available to watch in Australia On Demand on FOXTEL and on BINGE.
The UK premiere of UPRIGHT Season Two will be at 9pm on Tuesday November 22nd on Sky Comedy with the first 2 episodes played back to back.
All 8 episodes will be available On Demand on NowTV.
Season One is currently available to watch on NowTV in the UK.
Canada: Season 2 premieres on Super Channel Fuse on December 18th at 9pm ET.
It will be available for Streaming and On Demand. Super Channel is available via most cable providers across Canada as well as streaming on Amazon Prime Video channels and Apple TV+.
USA: Season 2 is available on Sundance Now from Thursday 26th January.
UPRIGHT air dates and streaming platforms for the ROW will be added as they are confirmed and announced.
Season Two is directed by Mirrah Foulkes.
Tim: "We were so lucky to have the brilliant Mirrah Foulkes steering the metaphorical tinny up the allegorical creek."
Tim, the Executive Producer, Lead Writer, and star of UPRIGHT has again written some music for the series, alongside another beautiful score by Jackson Milas and Antony Partos. Tim wrote The Aeroplane which was released earlier this month and Spider Girl which he's been playing at Australian festivals this year for the series.

The official trailer for the new eight-episode season is not yet available globally but you should be able to get a sneak peek at what's in store for Lucky and Meg here if you're in Australia and if you're in the UK and ROW here.
Along with Tim (The Secret River, Californication) and Milly Alcock (House of the Dragon), UPRIGHT features a stellar returning cast including Heather Mitchell (Love Me, Palm Beach), Ella Scott Lynch (Amazing Grace, The Code), Daniel Lapaine (Catastrophe, Five Bedrooms), Daniel Frederiksen (The Dry, Miss Fisher's Murder Mysteries) and Asmara Feik (The True History of the Kelly Gang, The Listies Work for Peanuts). Joining the cast for season two are Australian icon Noni Hazlehurst (June Again, A Place To Call Home), Jessica McNamee (Mortal Kombat, Packed to the Rafters), Hayley McElhinney (Mystery Road: Origin, Doctor Doctor), Darren Gilshenan (How To Stay Married, Stateless), Tom Budge (Gallipoli, Judy & Punch), Anita Hegh (Total Control, Janet King), Travis Cotton (New Gold Mountain, Neighbours) and Nicholas Brown (The Unlisted).
UPRIGHT is a Lingo Pictures production for FOXTEL and Sky UK