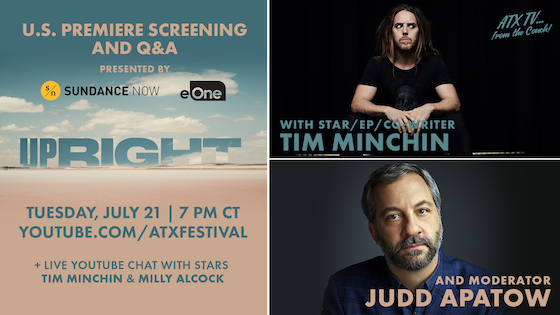 North American friends! The first 2 eps of #UPRIGHT are premiering on the ATX YouTube channel with ATX Festival, eOne and Sundance Now on Tuesday, July 21st at 7pm CT.
I'll be chatting online as it's airing with the awesome Milly Alcock. Afterwards the legend that is Judd Apatow is hosting a Q&A with… me. Huzzah. The full Q&A will be made available worldwide on July 22nd at 8am PT / 10am CT. Time Zone Converter
UPDATE: Here's the Q&A with Judd Apatow:

If you're in the US you can use the promo code 'UPRIGHT' to join Sundance Now for a 30-day-free-trial ready to watch UPRIGHT when it premieres on there August 6th.
More information on UPRIGHT can be found here. But in short, it's wicked, you'll love it. tx